I recently found this beautiful little shop on Etsy called "Greenbelts"... Shannon Ritscher (the creator behind "Greenbelts") designs and hand-crafts one of a kind dog (or cat) collars, bracelets, rings, you name it - all from recycled leather belts! I was jumping up and down inside when I stumbled upon her store after searching through one website after another in search of the perfect hand-made, distressed dog collar for my little baby Cash. (of course, he only gets the best!) ...then of course, me, being the picky little artist I am, decided to have one custom made for him so it was exactly what I wanted, and thankfully, Shannon was patient with me and my many emails, and was able to make this super special collar just for me. I mean Cash. :)
Thank you Shannon!!!
You can visit her Etsy store, and see more of her beautiful handi-work
here
(or if you're old skool, you can just type www.greenbelts.etsy.com into your browser)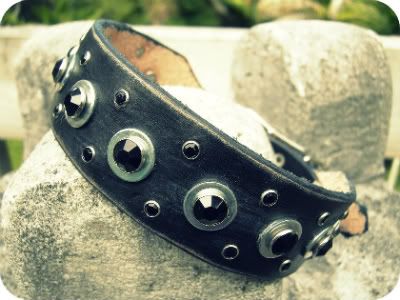 Above: Cash's new collar...talk about fabulous.
Below is an example of one of the beautiful cuff bracelets for sale in her shop:
That's all for now!! I'm off to the studio...
Peace & Love