Greetings to you all...
I recently received an email from my mother with a link to a blog called One World, One Heart
.
A woman named Lisa Swifka is the author of this blog, as well as the host of this worldwide blogging event that is taking place January 19-February 12. Rather than me trying to explain it all to you, I'll share an excerpt from Lisa, the creator of One World-One Heart:



"The original idea behind this giveaway event was to bring bloggers together from around the world who may never ordinarily meet. It closes the gap of the blog community and enables us to interact, discover new and wonderful people, and in the process possibly win a prize or many prizes along the way...This is more than wanting to win something.......that is only the means.......in the end it's about finding kindred spirits. Someone who may be fairly new to blogging, not sure how to navigate, find others and have others find them....Some are long time bloggers and in some cases well known in the art community. Whatever the case it brings all of them together...We are not solving the worlds problems nor are we curing anything nor are we changing the world. We are merely generating a closer community between humans through blogging."



I am participating in this event (OWOH) and for those of you who entered my Christmas art give-away, this is another chance for YOU to win some awesome artsy prizes!!! This drawing is open to ANYONE and EVERYONE!!!

HOW TO ENTER TO WIN:
All you need to do is leave me a comment ON THIS POST and be sure to include your name and email so I have a way to get a hold of you if you are the winner! It's that easy!
THE PRIZE:
I am giving away not one, but TWO prizes this time...to the first two names that are drawn!!!
1st prize: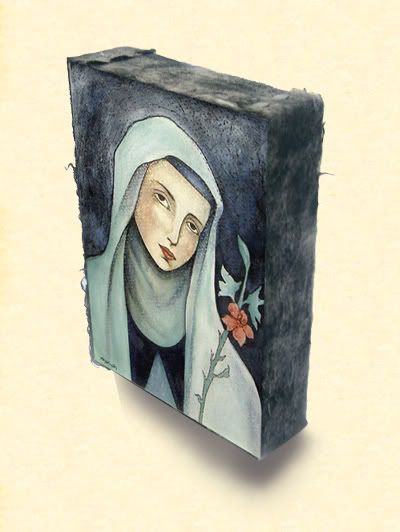 An art block print (of your choice!), valued at $65!!! To choose which block you would like, just visit my Etsy store!
2nd prize:
A pair of artsy, vintage milk-bottle-cap earrings! Valued at $15... you choose which pair you'd like by visiting my Etsy store!
If you are interested in finding out more about how you can participate in this as well, please click on the "WORLD" button above to visit the website.
NOTE: The winners name(s) will be drawn on FEBRUARY 12th, so be sure to enter now to WIN!!!
I'm always adding new art, photos, updates, and my ramblings to my blog, so feel free to
Follow my blog
to keep updated!