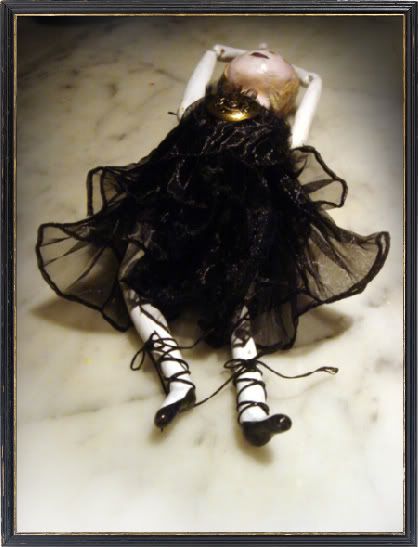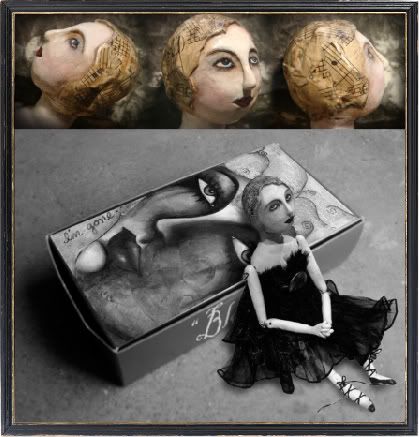 "Blondie" is a one-of-a-kind (OOAK) vintage 1930's style art doll handmade and designed by artist Shariyah. She was created using polymer clay that has been entirely hand painted and antiqued. Her hair is made of original vintage music sheets that have been 'styled' into the popular 1930's finger wave-do.

Blondie's outfit is inspired by 20th century fashion. Her dress is made of sheer frilled black chiffon and is adorned by a beautiful vintage brass button. Her black ballerina slippers are painted on, and are laced with cotton twine and tied in a perfect little bow.

Blondie's arms and legs are joined using cotton twine at elbows and knees. She has been sealed with a crackle glaze to give her an aged, vintage appearance and to preserve her for generations to come. She measures approx 10.5" tall, and can be displayed sitting on the edge of a shelve or table. Blondie will arrive to you signed and dated in her own little box to keep her safe and warm.

Blondie is looking for a home where she will be treasured for many years to come! You can visit her in my etsy store here:
I don't know if you remember my first doll "Amelie" who I introduced back in January... Well I had so much fun making her, I just couldn't wait to get started on my 2nd! I had quite a few people ask me if Amelie was for sale, but I couldn't bring myself to part with her since she was my very first of many dolls I will create ~

so

I have since decided to create a new doll each month which will be available you to purchase in my etsy store!
Hope you enjoy, and keep a look-out for my new dolls I will be posting each month!